Youha The One Electric Breast Pump With One Year Warranty (Free Medela Nursing pad 4pcs)
Youha The One Electric Breast Pump With One Year Warranty (Free Medela Nursing pad 4pcs)
Youha The One Electric Breast Pump With One Year Warranty (Free Medela Nursing pad 4pcs)
Your Price:
S$129.00
(You save

S$70.00

)
Rating:
(

1

product review )
---
Product Description
This breast pump will be sold to Singapore customers only. One year warranty with Kulily.
The Youha breast pump is the perfect companion whether you're nursing or exclusively pumping because it's strong, it's convenient, it's portable, and most importantly, it's efficient! Pump breastmilk with Youha's The One in a fraction of the time it normally takes with less effective breast pumps
3 modes for choice ( massage ,Simulation and Deep expression),6 levels in each mode . With personal setting , it provides 20 speed option and 7 suction selection. So that mother is more motivated to breastfeeding. The back flow protection prevent breast milk from reaching the air. Make sure it is safe and hygienic for the mothers and the babies. Youha has a security lock function. It makes the mothers don't need to worry about to press the wrong buttons when they are pumping.

Tips: well-experienced lactation consultants recommends mommy to try 3 level cycle and 5-6 level suction
Smart Touch Screen (HD Color LCD Display)
3 Phases Expressing Cycles (simulate the initial rapid suckling, mimics natural suckling and deeper longer suckling)
6 Levels Pumping Pressure
Mix Mode Feature
Lock Screen Feature
ULTRA SILENT
Proven Airlock Protection
BPA Free
Small Compact Lightweight (300gram)
Medium Duty Breast Pump
Memory Personalize Function
Rechargeable Lithium Battery
The pump on the go!
Technology from Switzerland
100% European standard
What's included in the Kit
1x Youha The ONE motor unit
2x 24mm breast shields
2x 27mm breast shields
2x soft massage cushions
2x connectors
1x cooler bag with ice pack
1x Y-shape (double) tubing
1x single tubing
2x PPSU storage bottles
1x AC adaptor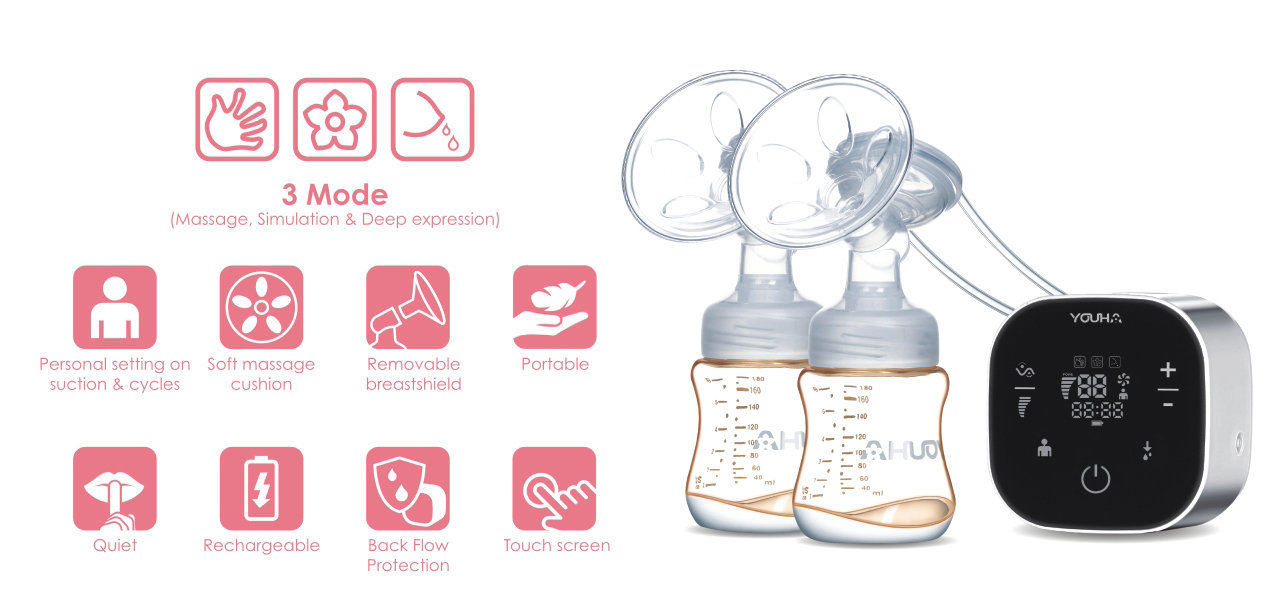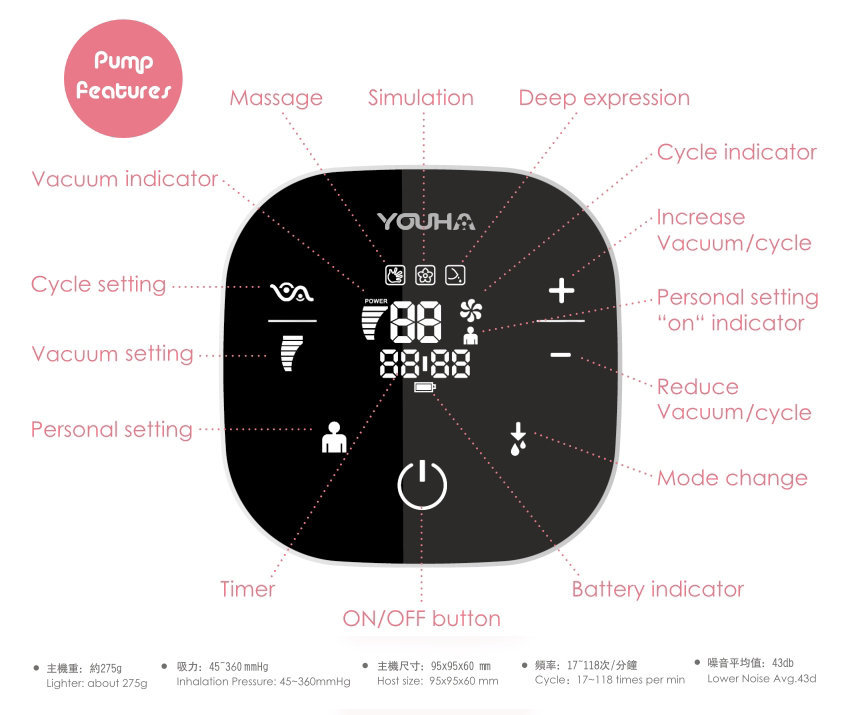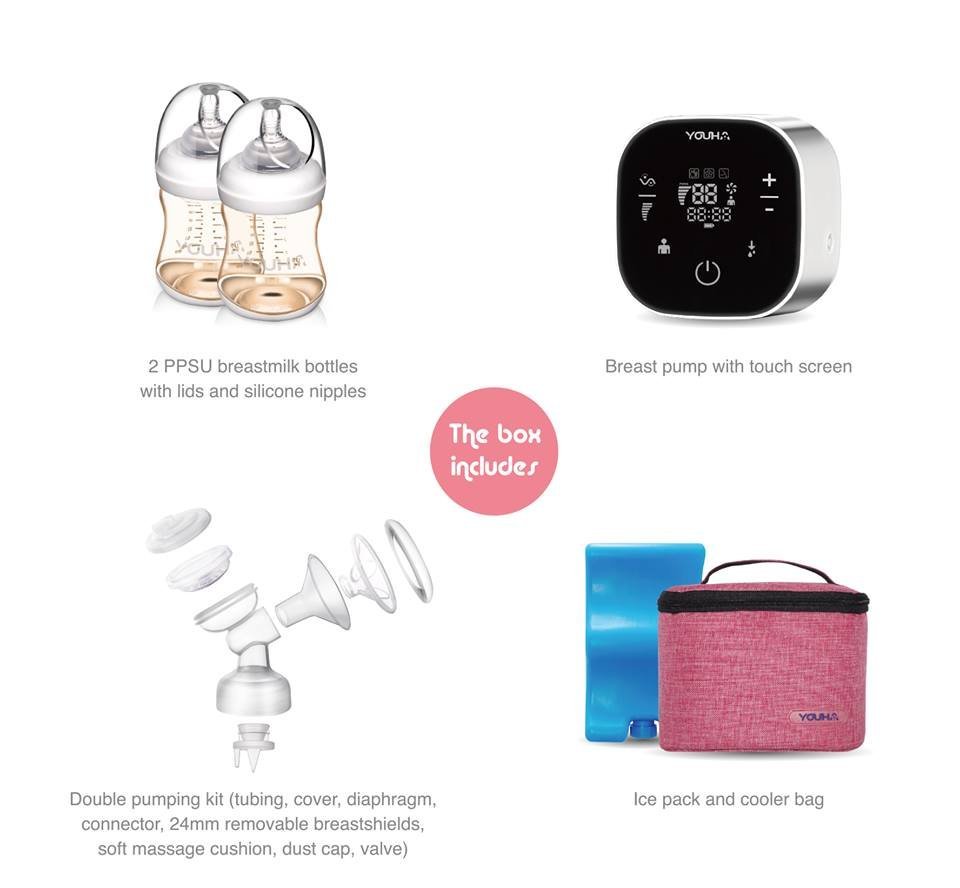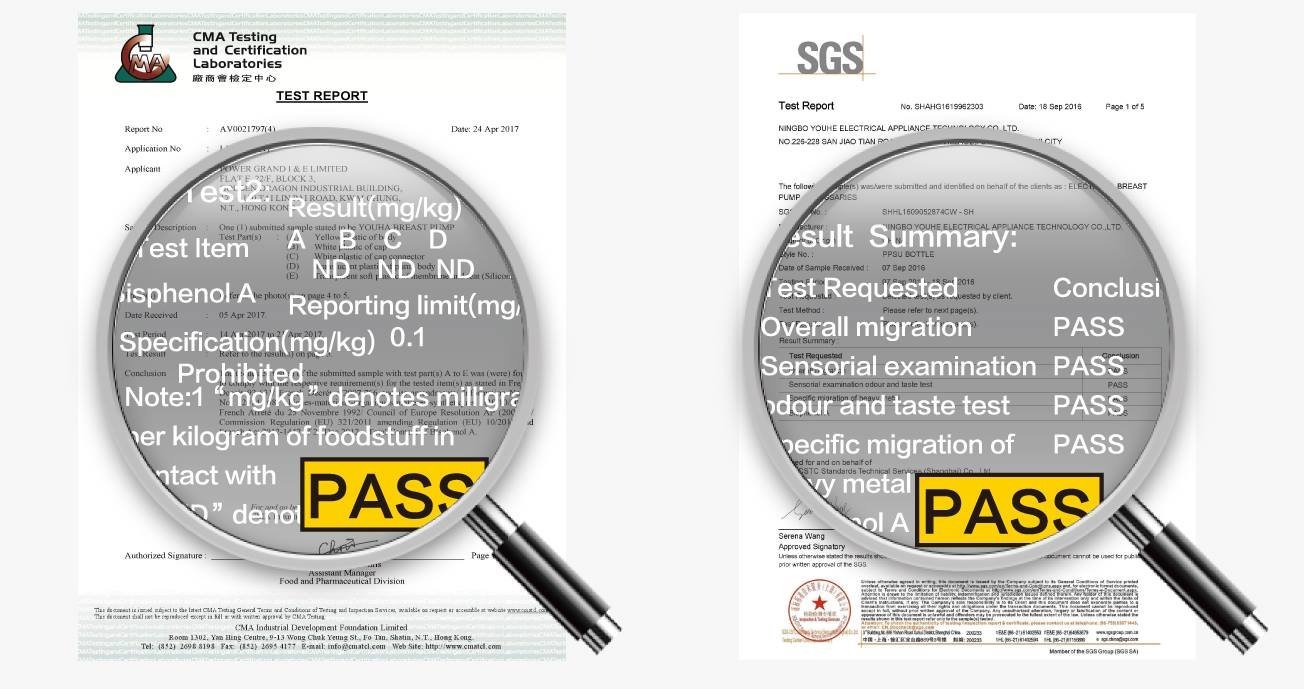 ---
Find Similar Products by Category
---
Product Reviews
Impressive features and calibrated setting for a portable pump

Posted by MWong on 14th Jul 2018

My Bubee pump broke down at work and I'm glad I gave Tracy's suggestion a thought when I shared with her my hesitation about S9+ and Freestyle. For those of us who are frustrated with pumps that are too weak or strong to allow us to pump efficiently and comfortably, this is worth a consideration. With 3 modes (decreasing cycle rates) and 6 levels, this pump has essentially 18 present levels which should allow most to find a comfortable and efficient range to work within. Few portable pumps offer this kind of calibration/control. For me, most of the expression happens in the stimulation mode and I find toggling with the deep expression mode in the last 10m helpful to draining my breasts further. Even though it's powerful, it's still comfortable and the soft massage cushion that can be inserted into the flange makes it even more so. Other perks include the sturdy PPSU bottles and the cooler bag. It comes with a rechargeable battery and three pin adaptor which I prefer over using a power bank. I also managed to use my Maymom Spectra Flanges with it! At this price point, I really think this is a great buy. I hope it will survive the daily commute with me though!

---
---
Customers Who Viewed This Product Also Viewed