The Bundle include:
Free gift: Tommee Tippee Milk Storage Bags 350ml, 36 bags, Medela nursing pads 4pcs
Youha The One Breast pump: One year local warranty for the pump.
The Youha breast pump is the perfect companion whether you're nursing or exclusively pumping because it's strong, it's convenient, it's portable, and most importantly, it's efficient! Pump breastmilk with Youha's The One in a fraction of the time it normally takes with less effective breast pumps
3 modes for choice ( massage ,Simulation and Deep expression),6 levels in each mode . With personal setting , it provides 20 speed option and 7 suction selection. So that mother is more motivated to breastfeeding. The back flow protection prevent breast milk from reaching the air. Make sure it is safe and hygienic for the mothers and the babies. Youha has a security lock function. It makes the mothers don't need to worry about to press the wrong buttons when they are pumping.

Tips: well-experienced lactation consultants recommends mommy to try 3 level cycle and 5-6 level suction
Smart Touch Screen (HD Color LCD Display)
3 Phases Expressing Cycles (simulate the initial rapid suckling, mimics natural suckling and deeper longer suckling)
6 Levels Pumping Pressure
Mix Mode Feature
Lock Screen Feature
ULTRA SILENT
Proven Airlock Protection
BPA Free
Small Compact Lightweight (300gram)
Medium Duty Breast Pump
Memory Personalize Function
Rechargeable Lithium Battery
The pump on the go!
Technology from Switzerland
100% European standard
What's included in the Kit
1x Youha The ONE motor unit
2x 24mm breast shields
2x 27mm breast shields
2x soft massage cushions
2x connectors
1x cooler bag with ice pack
1x Y-shape (double) tubing
1x single tubing
2x PPSU storage bottles
1x AC adaptor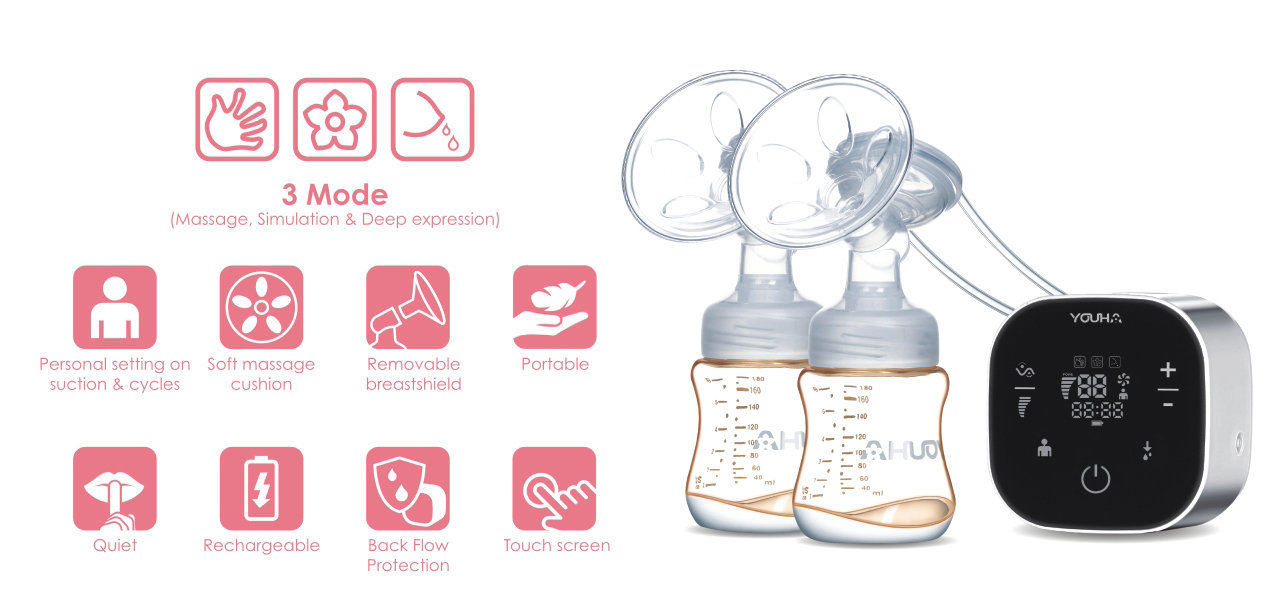 Youha The ONE hands free Express Cups ( 24mm)
THE ONE EXPRESS CUPS is the first and currently the only breastfeeding horn cover using food grade matte silicone to bring you a comfortable and safe experience. Connected to compatible portable breast pumps, THE ONE EXPRESS CUPS provides a mobile, convenient and fast method of pumping milk. The installation is simple and direct, all accessories can be disassembled, easy to clean, and can be sterilized in boiling water.
While nursing your baby on the other side
Sitting at your desk at work
In the kitchen
In transit - the car or airplane
Any activity where you can remain upright and it is safe to do so
Safe, convenient, effective
High-quality closed-system is free from Bisphenol A (BPA) and Diethylhexyl phthalate (DEHP) which is tested in Australia
-The new improved version greatly reduces the situation of milk backflow
-It can completely liberate the two hands when you can pump milk-You can do breast pumping
at home / work / car / aircraft with the bust and it is not
disturbing More comfortable
-the whole set of accessories can be steam sterilized / UV sterilized

Can be used with a variety of breast pumps:
Youha: All models
Spectra (S1, S2, M1, 9+, 9S)
Avent (Avent Double Electric Breast Pump)
Unlmom (Forte)
Cimilre (F1, S3, S5)
Medela (Lactina, Symphony, Pump in Style Advance, Sonata, Freestyle, Swing Maxi, Swing)
Included in the box:
2 x Silicone breast shield
2 x 8oz / 240ml Cup
1 x Y-Shape tubing
2 x Membrane cap
2 x Membrane
2 x Valve base
4 x Valve (includes 2 spares)
2 x Tubing adapter A
2 x Tubing adaptor B
Tommee Tippee Milk Storage Bags 350ml, 36 bags
Tommee Tippee Closer to Nature pre sterilized stand up bags.Box contains 36 milk protection bags. BPA free. Intuitively designed by experts to safely store breast milk with a safe seal, easier and more natural feeding.
36 x Pre-sterilised stand up bags

Holds up to 12floz/ 350ml of breast milk

Stand up bags for easy milk transfer

Double fastened to prevent leaking

Name, date & Volume panel for easy labelling

BPA-free