Medela - Quick Clean Breast Pump and Accessory Wipes, 40 Individually Packed Wipes
---
Product Description
Hygienic wipes proven safe for cleaning breast pumps, breast shields and accessories

Ideal for quick clean up while traveling, at work or on the road

One wipe cleans breast shields, valves and membranes

Great for cleaning changing tables, high chairs, cribs, countertops, toys and more

Part of the Quick Clean family of products and are perfect for out and about - a portable cleaning solution

Ideal for quick clean up while traveling, at work or on the road

Unscented, alcohol and bleach free

Great for changing tables, high chairs, cribs, countertops, toys and more, convenient, no need for soap and water
Perfect for out and about - a portable cleaning solution!
Convenient portable cleaning, no need for soap and water cleaning after each pump session. Hygienic wipes proven safe for cleaning of breast pumps and accessories as well as high chairs, tables, cribs and countertops.
Unique hygienic wipes allow cleaning without soap and water.

Also great for changing tables, high chairs, cribs, countertops, toys and more.

Unscented, alcohol and bleach free.

40 individually packed wipes.
Item number: 87059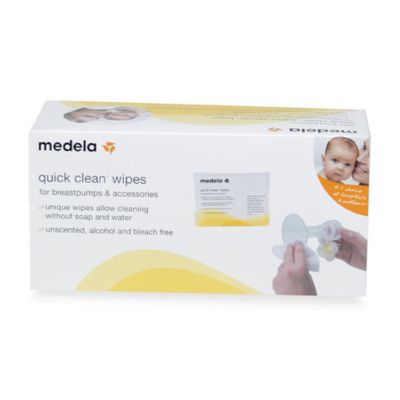 ---
Find Similar Products by Category
---
Customers Who Viewed This Product Also Viewed