Made from BPA free PP material.

Steam safe, autoclaveable.

One piece design for easy cleaning.

Only compatible with narrow/standard-neck bottles e.g. Medela Bottles

US FDA compliance

Compatible with all Medela pumps except Swing Maxi, FreeStyle and Harmony. It is also compatible with older speCtra breastpumps (Dew 350, 360).

With an addition of a flange adapter, it can connect to a backflow protector using in Spectra S1/S2/M/9+ pumps.
Features
One-piece design; easy to clean, less piece to keep, and less chance for suction power loss.

All components are safe for steam sterilization,microwave sterilized or sterilized in boiling water.

Compatible with all Medela pumps except FreeStyle, Swing Maxi and Harmony.

US FDA registered medical device (No. D192499); Comply with US FDA standards for containers that contact food and class II medical device.

Standard sized 25 mm inner diameter is most comfortable for the majority of breast feeding moms. However, other sizes are available too.

Other sizes to choose from -15, 17, 19, 21, 24, 26, 27, 29, 30, 34, 36 mm one-piece flanges (*22 mm insert to use with 25 mm flange and 28 mm insert to use with 30 mm flange - not included)
Autoclave instructions:
To autoclave, place the flange in 121oC, 1 kg/cm2(or 14.2 psi) for 15 minutes. Test reports done by independent lab show that Maymom flange does not change physically after the autoclave procedure, and it can still pass the FDA 21 CFR, 177.1520 specifications for polypropylene (FDA PP report).
How to choose the right size of breastshields for you?
The inner diameter of the breastshield (B) should be 1-2 mm larger than the diameter of your nipple (N). AFTER a pumping session or 3-5 mm BEFORE a pumping session. You should be able to see free movement of your nipple during pumping and there should be little or no suction of the areola into the tunnel of the breastshield.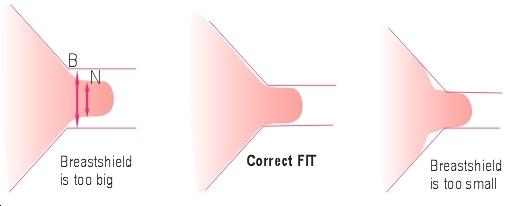 When it comes to pumping comfort, every millimeter counts. That is why we design a series of breastshields of small increment sizes. Maymom MyFitTMone-piece breastshields are available in 15 (XXS-), 17 (XXS), 19 (S-), 21 (S), 24 (M), 25 (M+), 26 (L-), 27 (L), 29 (XL-), 30 (XL), 34 (XXL-), and 36mm internal diameters plus 22 mm and 28 mm inserts to fit the majority of breast pumping mothers
How to measure the diameter your nipple?
Download the, print it out, cut through the red line, fold along the green dots then you have made yourself a nipple diameter measuring tool! See below for the finished ruler.
Medela only provide guarantees products that are bought through us the appointed sole distributor or our authorised retailers in Singapore. No warranties nor guarantees will be provided for parallel imported products.