A one-of-a-kind play gym that grows with baby
Fun Comes First! This isn't your average play gym! The 5in1 Your Way Ball Play Activity Gym from Bright Starts is a 48" jumbo mat and play gym with walls that can be adjusted up or down. Walls up keeps balls inside and acts as a barrier during play time and tummy time. 35 colorful balls extend the life of this gym into the toddler years because with all walls up - it becomes a ball pit! Engaging toys include an electronic toucan that entertains baby with over 20 minutes of merry melodies. A plush elephant, monkey bead chaser and more jungle themed toys including leaf-shaped teethers, a discover me baby safe mirror, crinkle fabrics, rattles, prop pillow and even a character bag to help baby experiment with put and take development. From tummy time to toddler time, baby will be having a ball!
Toy Attachments
Includes toy bar or links to entertain and delight baby
Rattle beads
Crinkle Fabric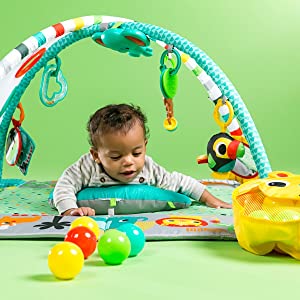 Great for tummy time
Includes a prop pillow to keep babies comfortable during tummy time, plus toys, music, and lights to keep them amused. The oversized, 48" mat offers plenty of space for both baby and mom to play, with sides that fold up to form an enclosure as baby grows.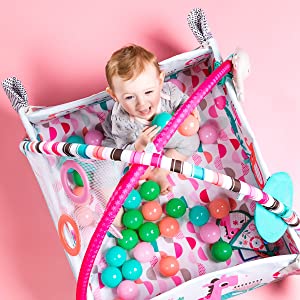 Converts to ball pit
When babies are sitting up, they'll love to play in their very own ball pit! Simply raise the sides, and add the balls. 35 plastic balls for "ball pit" mode are included with your purchase. They're safe for teething, and easy to wipe clean. Keep the balls tucked away and off of your floors with a cute, convenient storage bag.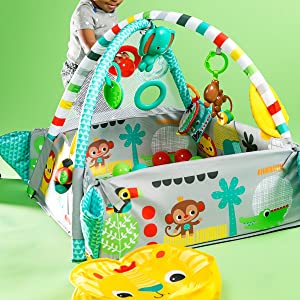 Toy bar with 12+ activities
Baby can grasp and teethe on colorful toys and characters on the toy bar, including a light-up elephant, bead sliders, teethers, "discover me" mirror, crinkle fabrics & more. The elephant toy entertains with colorful, flashing lights, and over 20 minutes of cheerful melodies.